I am a Year 7 student at Panmure Bridge School in Auckland, NZ. I am in Learning Space 2 and my teachers are Ms Kirkpatrick and Mrs Anderson.
Thursday, 23 April 2015
this is my xra math's that I been learning about xra math's it was easy i had lot's of fun
Wednesday, 22 April 2015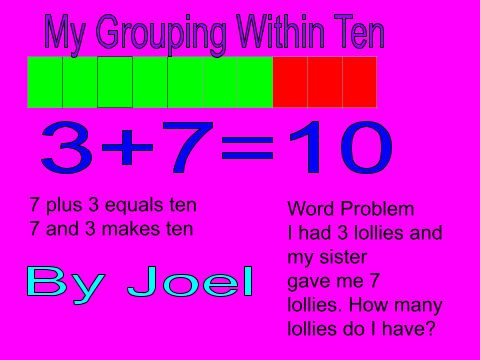 I been learning to make groupings within make ten. I put seven blocks and three block together. The blocks made ten
Tuesday, 21 April 2015
this is my poppy that i made we are learning how to make our poppy about world war one
in April 1914 the New Zealend and the Australia came to Fight in war.
they salabat anzac Day .
I had a lot of fun making chocolates with Miss Paton. We melted chocolate buttons and mixed them. My group put the melted chocolate into a mold and then it went into the fridge. The chocolate was cold when it came out of the fridge.